The McKee Collection of Paintings

Color Photography Consultant, John Ireland
Arrangement and Design by Carl Hertzog
Published by the Robert E. and Evelyn McKee Foundation

Copyright © 1968
Robert E. and Evelyn McKee Foundation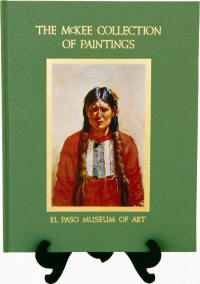 Price - $19.95 - Hardcover
Price - $12.95 - Paperback
Plus the cost of packaging and shipping.
(Limited Edition)

The McKee Collection of Paintings, is a limited edition book containing illustrations of a collection of paintings by some of the most sought after artists from the southwest region of the United States. Included are paintings by E. Irving Couse, E. Martin Hennings, Joseph H. Sharp, Oscar E. Berninghaus, Freemont F. Ellis and many more - approximately 40 artists represented! The book is 67 pages long with photographs and information about the artists.

Orders will be received in writing at the foundation office at 5835 Cromo Drive, Suite 1, E1 Paso, Texas, 79912-5501 (P. O. Box 220599, E1 Paso, Texas 79913-2599) or by - Phone (915) 581-4025; Fax (915) 833-3714 and E-mail. Books will also be available at Barnes & Noble in El Paso, Texas or by special order. Any profits which may be derived from the sale of this book will become assets of the Foundation.